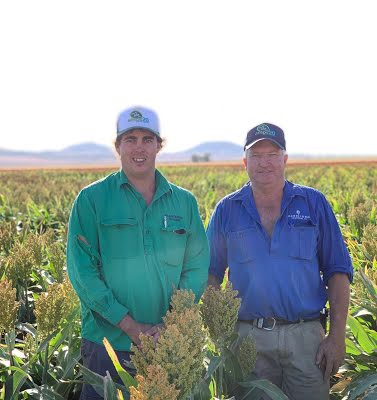 April 12th , 2019
AMPS Agribusiness Group looks to the next generation of farmers
As a business with an emphasis on supporting local growers, it has been vital over the past 20 years to have a Research Chairman with a broad local knowledge and a long-standing involvement with agriculture. Gordon Brownhill encompasses all of this and more; under his watch over the last 12 years AMPS Research has grown and developed in leaps and bounds.
Gordy has been instrumental in the transformation of AMPS Research to what it is today overseeing the annual research budget grow from less than $100,000 to $700,000 annually and growing output from less than 1000 plots per year to more than 13000 plots per year. Gordy has been such a wonderful advocate for AMPS Research and the wider ag community. Thankfully he will still be involved on the Liverpool plains research committee.
Currently AMPS Research trial sites vary in their purpose; from differing time of sow, to researching the effects elevation has on yield, to trialing experimental and existing varieties. The results of these trials are presented at the various Field Days AMPS hold, as well as our Summer and Winter Crop Reviews which are located across the region twice a year. The purpose of these is not only to showcase the work that Research do and the results they get, but also to encourage active involvement and discussion from our growers. This consistent feedback ensures that the strong progressive ethos we have at AMPS is never given the opportunity to waver or go stale.
AMPS was set up in September 1999, nearly 20 years ago. And alongside a celebration we are planning, we are taking this milestone as an opportunity to look towards the future of AMPS. Many of our founding shareholders still play a massive role in the structure of AMPS, but we are also trying to encourage young growers to get involved and giving them the opportunity to make their mark on a thriving locally minded business.
With our eyes on the future, Gordon Brownhill has stepped down as Research chairman and is giving the next generation an opportunity to make their mark. AMPS are very proud to announce that Tom Simson is taking over. Tom attended Marcus Oldham College before returning to run a mixed farming operation on the Liverpool Plains alongside his father Ed. We are confident that Tom's enthusiasm and fresh attitude will steer AMPS Research onto even more advanced and progressive accomplishments over the years to come. Since returning to the farm Tom joined the local sub-committee for AMPS Research where he became very involved with the different trials and processes. Tom has already been instrumental in creating a new trial concept. Tom along with the team at AMPS have created a cover cropping trial that will hopefully be implemented in the next coming months. This is an example of how innovative AMPS Research can be.
Alongside Tom, AMPS is experiencing involvement from young growers and young people in agriculture like never before. To this end we have run several workshops aimed at looking towards the future of agriculture and the place of young people within the industry. After an incredibly successful business day in Narrabri which attracted growers from all regions we have already got several more workshops and seminars in the works, with the intention of helping to solidify a role for young people not only within AMPS, but within agriculture in Northern NSW as a whole.
Article by: Sophie Willmott

Media Contact-
Georgina Mace | Marketing & Communications | 0429 263 364
Back to news