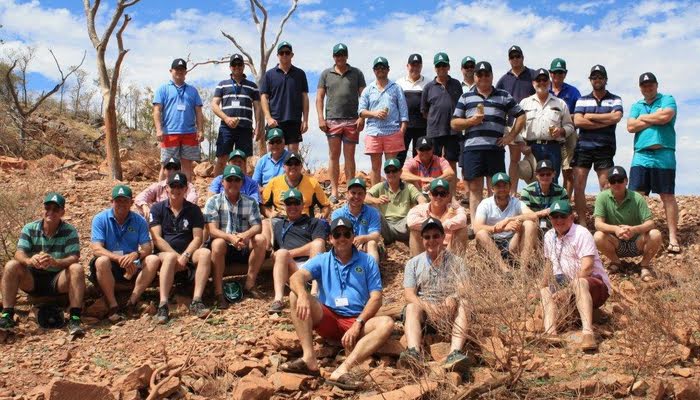 September 28th , 2017 | Events
Ord Trip 2017
AMPS recently organised a trip to Kununurra for 35 growers to have a look into different cropping solutions. This trip wouldn't have happened without our sponsors Pacific Seeds & ADAMA. We had growers attend from the Moree, Tamworth, LPP & Walgett regions. It was a great chance for our growers to build relationships with fellow farmers in different regions.
The trip started in Darwin where our growers enjoyed an evening out to sea and a 'few' drinks before the real hard work began.
The days spent on The Ord saw the growers participate in several farm tours including:
Chia Seed Production/Irrigated Chickpeas & Corn
Pacific Seeds Production Farm & Processing Plant
Kimberley Ag Industries Quinoa Production
Aswell as the farm tours the group had the opportunity to hear from the following guest speaker:
Mat Dear Ord Irrigation Co-op
Peter Stubbs Department of Regional Development
Peter Cottle Northern Deveopment Co.
The reason AMPS wanted to organise a trip to The Ord is because the farming practises up there are very different to our own regions. The amount of water they have up there means farmers are able to irrigate almost everything. While up there they were able to see new land being cultivated to cropping. With high profit crops driving many of our growers sowing decisions AMPS wanted to see what alternative opportunities our growers could have had. But up in The Ord they have different challenges to face such as logistics and chasing markets. ͞
"I've seen a lot of development and different industries, they are double cropping mung beans with a 65 day turnover which is pretty impressive. They haven't established a pillar crop up here yet, but I think the Cotton industry has potential to grow. Kimberley Ag investment are developing a lot of country which was a highlight for me on this trip I think that they will create an industry to suit themselves. The amount of water they have up here is unbelievable they give 17 megs per hectare͟."

-Tom Simson, Premer ͞
"It's been great to see firsthand what they do up in The Ord. It is amazing how long it's taken to develop the land up there. My highlights were being able to talk to 2/3 of some of the really good farmers and hearing the challenges they have͟."

-Gerard Gallagher, Attunga
"͞Exceptional trip and such a contrast to what we are use to. My highlights were The Ord river scheme is fascinating, and being able to see how big Lake Argye is from the air put into prospective how much water they have.͟"

-Jimmy Russell, Spring Ridge
"The trip was eye opening and I thoroughly enjoyed it. The irrigation in The Ord has always fascinated me. I need some time to reflect on everything I have seen. The trip was very well organised"

-Greg Rummery, Walgett
"Very educational and wanted to know more about the opportunities in the north with the water and the soil type being promising. Obviously, they have a few issues mainly regarding markets and logistics they need to overcome. Talking to local growers and trying to understand their issues was a highlight for me".

- Ben Moloney, Garah
AMPS aim to run a trip like this every year for our customers. Stay in touch with your local AMPS representative to hear about any upcoming trips or events!
Back to news