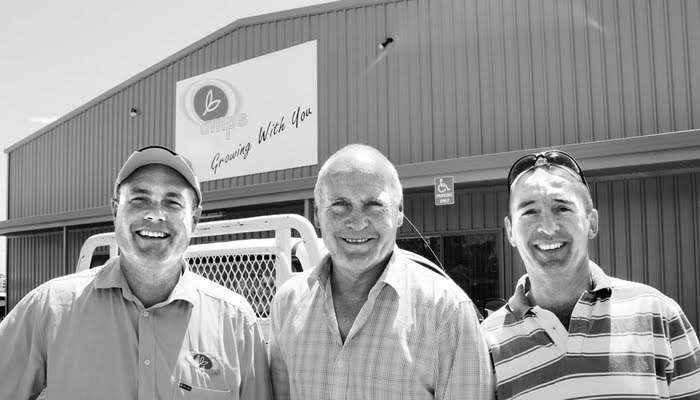 October 14th , 2013
From Little things big things grow
A group of farmers who came together in 1998 with a shared vision of funding their own production research has led to a new business in Armatree injecting in excess of half a million dollars into the local community.
AMPS Commercial is a retail business supplying rural merchandise, premium agricultural chemicals and general animal health products to farmers.

The company held an official launch on Thursday at the purpose built facility for clients and suppliers who were entertained by guest speaker, former Australian test cricketer Rodney Hogg.

Chief executive officer of AMPS Agribusiness Nigel Herring said while they had been trading in the local area for some time it had been out of their Liverpool Plains based depot. "We have been encouraged by the support we have received in the local area so now we have opened a merchandise business here," Mr Herring said.

He said local merchandise manager Scott Ceeney had been on board at Armatree for the past 12 months and they would be looking at increasing staff numbers in the future.

Mr Herring said the point of difference between AMPS Commercial and other traditional merchandise businesses is that all shareholders in the company are farmers.

"The second key difference between us and other business models is that if we generate a profit we then put that back into research," he said.

"When the company first started, it was by a group of 20 farmers from the Liverpool Plains area who got together and said, 'we need to take greater control of our own destiny'.

"They were concerned that there was a reduced amount of production research happening in the local area as government department budgets were being cut at the time," Mr Herring said.

The farmers decided to launch a business, an incorporated association with the view: 'If we fund it ourselves then we can invest in whatever we want to invest it in'.

AMPS Commercial launched in 2001 to generate profit.

"We don't shy away from the fact that we are a business and we need to generate profit to fund research as well as invest in places like Armatree," Mr Herring said.

"It was a pretty tough challenge for the initial shareholders and took a lot of commitment to stick with it for a long time."

In 2007 production research trials began under a research company (not for profit) with the funds generated by AMPS Commercial.

"And this is the lifeblood of what we are about," Mr Herring said.

"In essence assisting farmers to grow better crops and be more efficient at what they do," he said.

Outcomes from production research from trials over the last five or six years have mostly been about efficiencies, Mr Herring said.

"Better ways to use production inputs for greater yields.

"So we might look at different technologies that are out there in the marketplace and not currently used in the particular area and introduce those if they have a fit," he said.

Mr Herring said research carried out by AMPS was independent with the group not having any affiliations with particular companies.

"We've got to be scientific about what we do in research and our manager of research, Jules Dixon ticks all those boxes before we present data back to the grower.

Mr Herring said trials had been conducted in the local area over the last two winter crop seasons as well as summer crop trials of sorghum.

While research is a key focus of the AMPS group, the need to increase the size of their footprint to enable strategic economies and a sustainable business model is also evident.

"We have recently purchased two grain handling facilities on the Liverpool Plains, we bought another business at Moree and we have started Armatree from scratch," Mr Herring said.

"So we've got three businesses and if they make a profit they fund local research at Liverpool Plains, Moree and Armatree.

Mr Herring said the client base was growing in the local area.

"We started off with a group of about a dozen growers here who had seen what we had done at Liverpool Plains and they wanted that service and opportunity in the Gulargambone area," he said.

"We deal with the larger grower who is probably less likely to walk in our door here, so we want to take the merchandise to the grower, and so we'd rather not be in Gilgandra or Dubbo - we want to be out here where the farmers are," Mr Herring added.

Mr Herring said part of the company's mission statement was about sustainable farming systems long term.

"We want to create opportunities for farming families, but also for farm staff and ensure those opportunities continue to exist long term.

"There's no doubt it's becoming harder and harder to get people to come into rural areas," he said.

Acknowledging the efforts of locals involved in the development of the merchandise facility at Armatree, Mr Herring thanked AMPS local research chairman David Peart, project managers of the site - proprietors of Armatree Hotel Ash and Libby Walker, former Gilgandra mayor, Councillor Doug Batten and Gilgandra Shire Council staff Barney Kennaugh and Randall Medd.

The ribbon was officially cut by AMPS research chairman Gordon Brownhill before guests enjoyed a game of cricket with Mr Hogg on the lawns of the Armatree Hotel.

"The investment in Armatree by AMPS is something which I'm sure is unheard of in at least the last fifty years," Ash Walker said.
Back to news